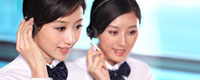 Name: Jessie Yu
Tel: +86-578-3360228
Fax: +86-578-3360226
Mobile: +86-15728071194
E-mail: info@chn-auto.com
Add: Dinglong Industrial Zone,Jinyun,Zhejiang,China
Skype: hsdt.auto
QQ: 2425361521




General Engineer Needed for Voltage regulators

HSDT AUTO offers a competitive salary and an excellent working environment.
Requirements

• Feed and maintenance of company's data systems with OE information: interchanges, specification, pictures, test data.
• Produce documents to support the new products introduction as unit or as a family.
• Prepare written recommendations based on conflicting components of product information
• Lead the case to resolution using a knowledge based direction.
• In charge of periodic product evaluation against OE samples and/or company's data systems.
• Persistent consultation of trustworthy information systems to improve the internal data systems.
• Active participation on quality incidents where data is needed to resolve a nonconformance.
• Able to test samples to extract actual data and specifications. Disassembly of samples if required.
• In charge to administrate a small library of product samples.
• Daily iteration with computer and information systems.
• Responsible for the adhering to the policies set forth by the Engineering and WAIglobal.
Qualifications
• High School Diploma or equivalent.
• Automotive technician certification or strong equivalent in field experience is required.
• Alternator and/or Starter rebuilding experience is required (>7years)
• Read, write, and speak the English language.
• Good verbal and written communication skills needed.
• Windows based computer knowledge and Microsoft Office necessary.
• Demonstrated MS Excel experience is need.
• MS Access experience is a plus.
• Mechanically and Electrical inclined.
• Must be able to work with hand tools and measuring equipment.
• Self-motivated and focused on results.

If you are iterested in this job,Please send your resume to info@chn-auto.com
We looking forward to share and cooperate with you.